Philipp Grubauer Shines in Debut, Bears Fall in OT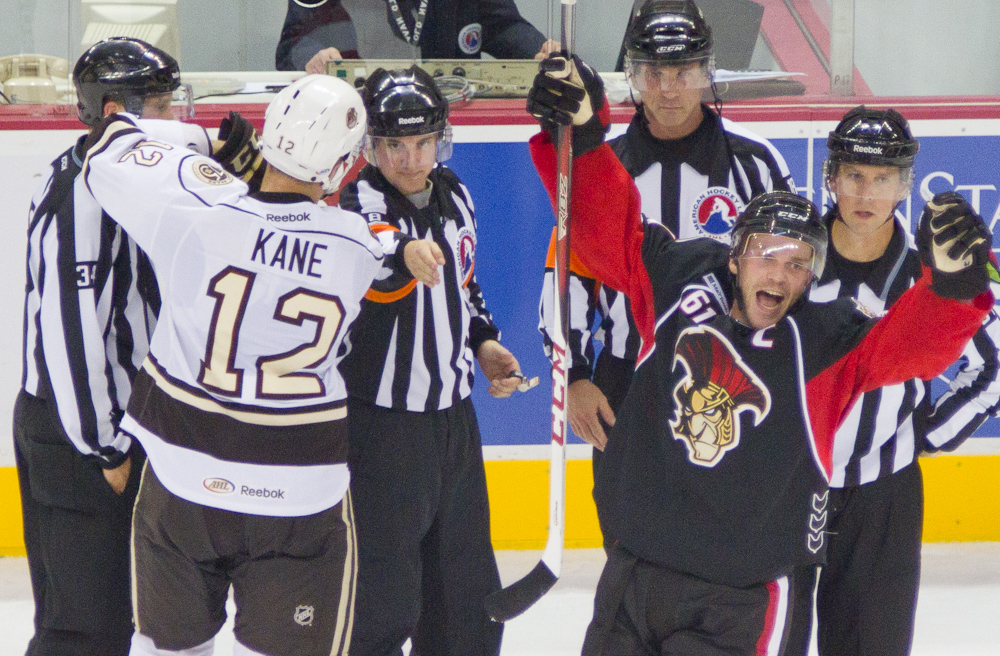 HERSHEY, PA – Referee Ryan Hersey signals a goal after a video review overturns a called off goal in overtime for Binghamton (Kyle Mace – Sweetest Hockey on Earth)
A night after getting their home opener spoiled by the hands of the Rochester Americans, the Hershey Bears battled for redemption against the Binghamton Senators. Philipp Grubauer made his long awaited  debut in goal for the Chocolate and White, and he showed exactly why he is a prospect in the Capitals organization. Although Grubauer looked at the top of his game, an instant replay deciding goal by Hugh Jessiman with 6.5 seconds left in overtime was the decisive factor, as the Sens beat the Bears, 2-1.
The main story of the scoreless opening period was Grubauer, who stopped all 12 shots he faced, including numerous chances on a 5-on-3 power play for nearly two minutes. Not only did he move side-to-side well to make saves, but he gave up little rebounds.
Into the middle frame, at the 3:02 mark Andre Benoit scored against Hershey for the second time in two games. He cashed in on a wide-open net after Grubauer made a kick save off a Mike Hoffman shot. Grubauer showed that he loves to come out and play the angles aggressively, and take away space on point-blank chances.
Within the quick, power play-less period for either side, Jeff Taffe managed to tie the game for Hershey. With 3:08 left in the frame, Taffe entered the zone and unleashed a slap shot that went five-hole on Robin Lehner. Shots after 40 minutes were 19-16 in favor of the Senators.
The third period was very evident that both teams were near the end of a three games in three nights stretch, as either side showed little explosive energy. The Bears for the first time in the 2012-13 season worked overtime, as after 60 minutes Hershey and Binghamton were still knotted at 1-1.
It set the stage for the first ever instant replay goal decision in Giant Center and Hershey Bears history. Unfortunately for the Bears, it worked in the Senators' favor. With 6.5 seconds left in sudden death, Hugh Jessiman crashed the net on Grubauer and forced the puck into the net, and the net of its pegs.
As of 2012-13, instant replay to decide or deny a goal is now allowed in all AHL games. The goal was originally waved off, but after video review, the puck crossed the goal line before the net was dislodged.
More Photos From Tonight's Game
All by Kyle Mace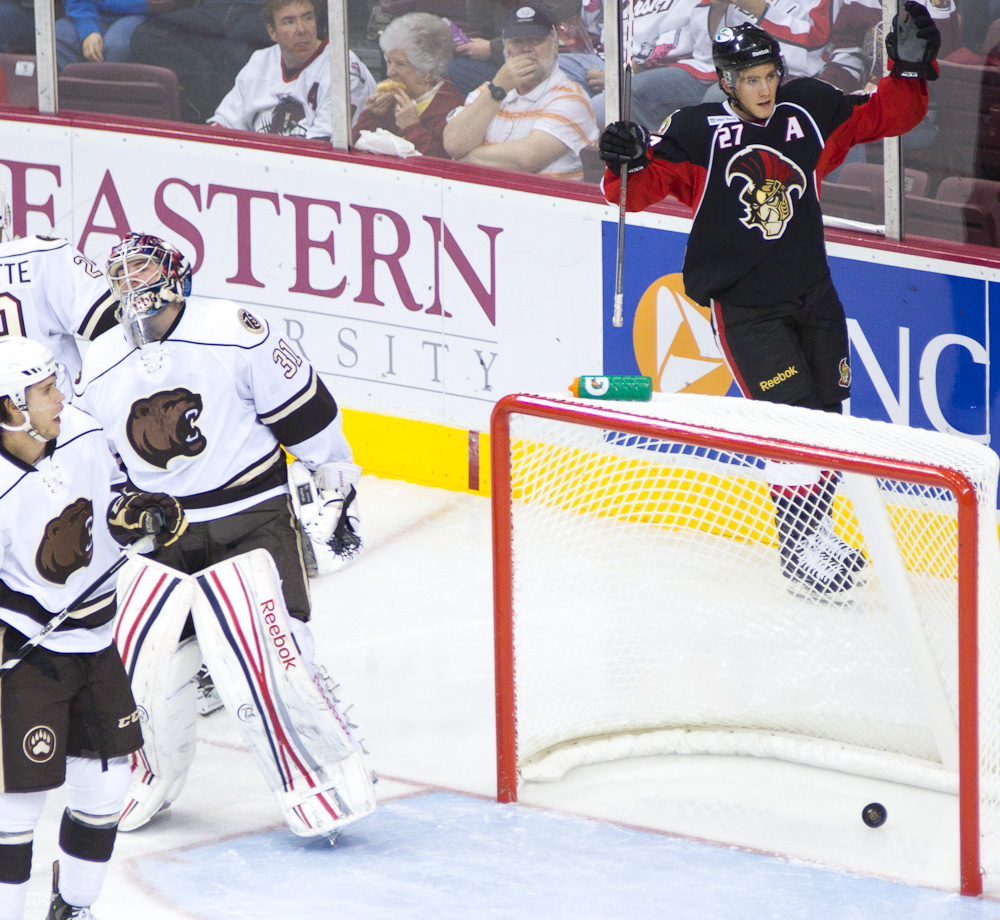 Binghamton strikes first in the second period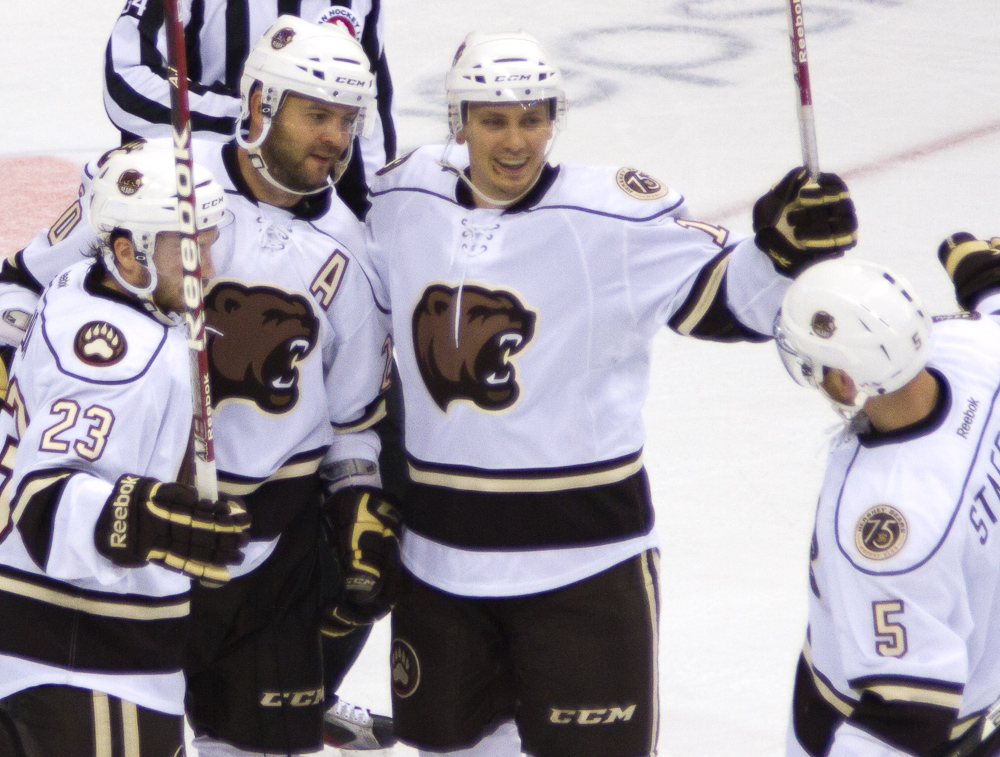 Bears celebrate their only goal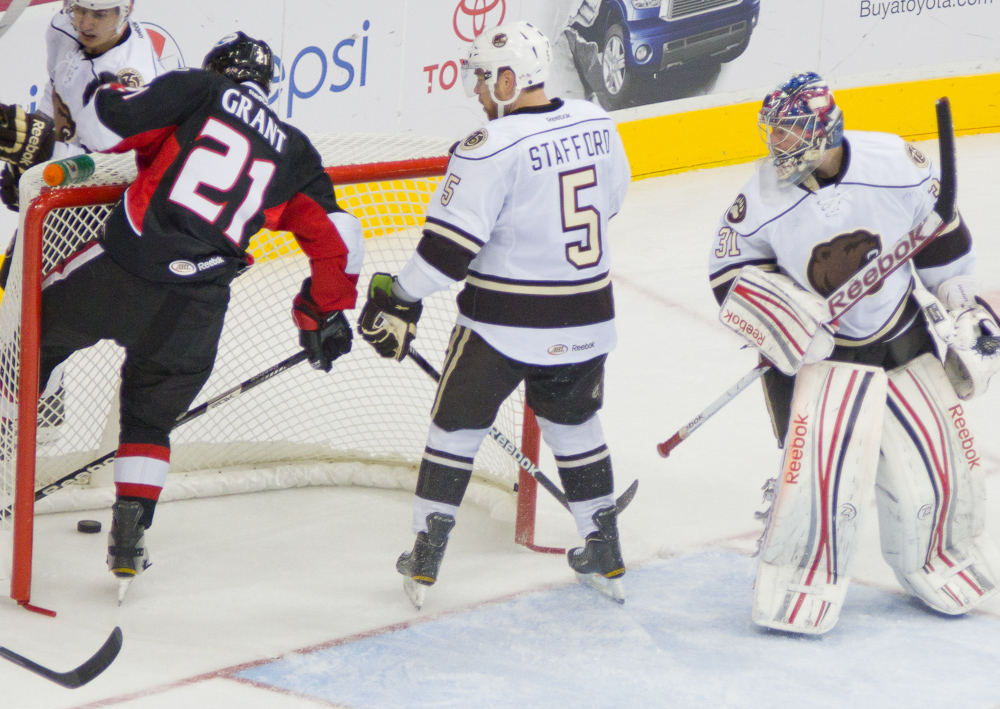 Grant runs into the net during Binghamton's game winning goal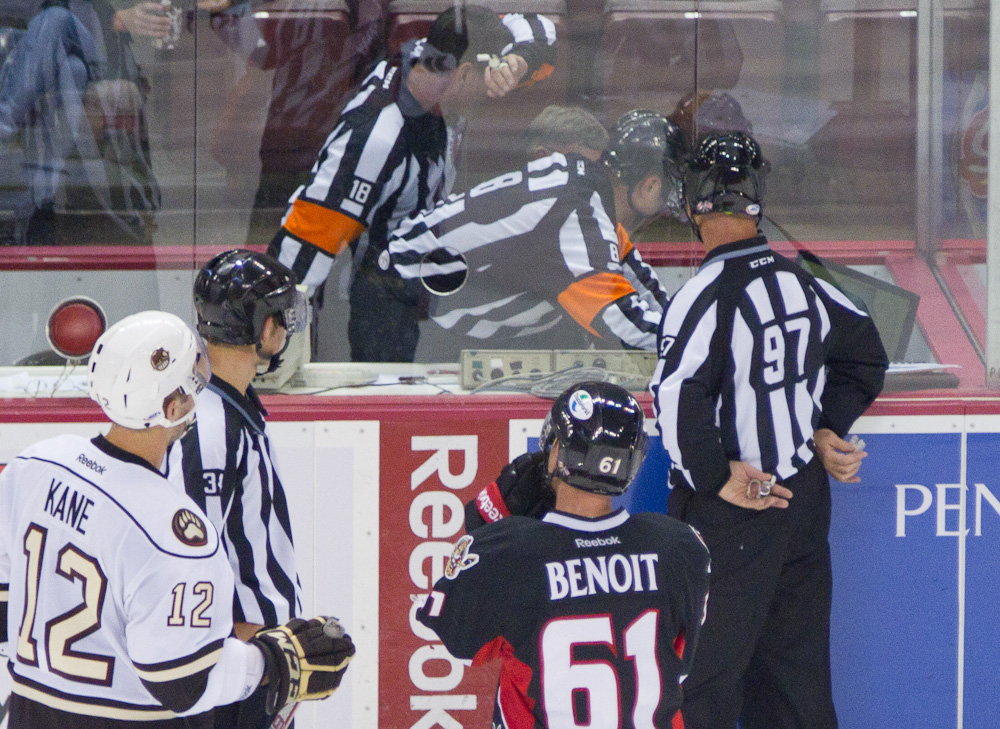 Refs Ryan Hersey and Chris Cozzan review Binghamton's goal as Boyd Kane and Andre Benoit look on
Video
Bears highlights from the game.
Jeff Taffe talks to reporters after the game.