Bears Comeback Extends Winning Streak to Five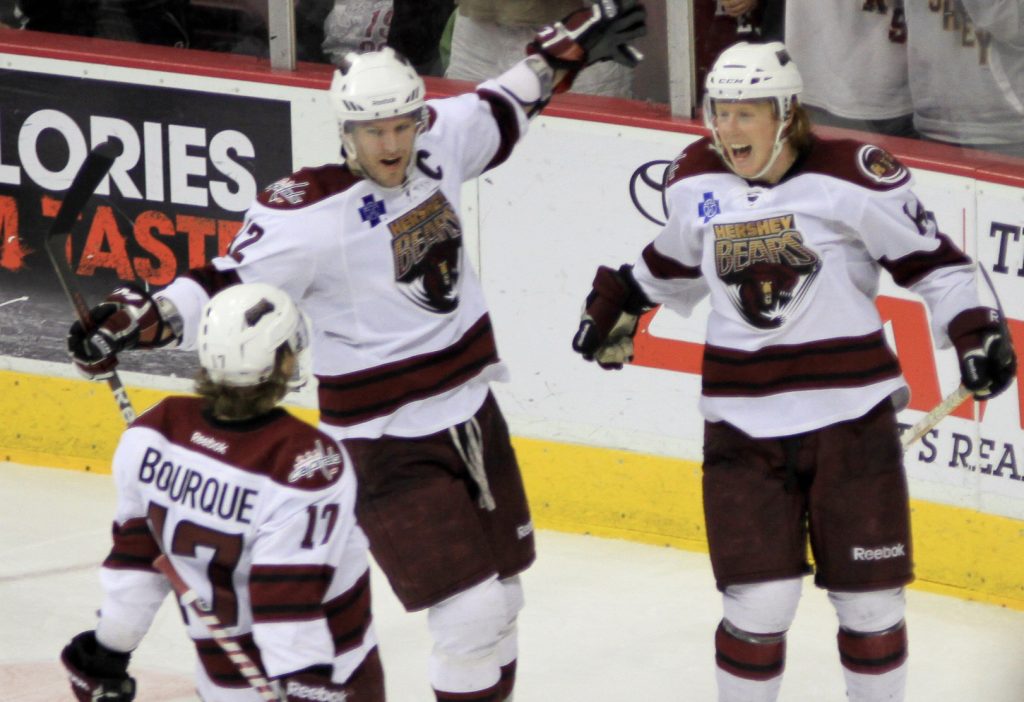 Cody Eakin, Boyd Kane, and Chris Bourque celebrate Eakin's game-tying goal (All photos by Kyle Mace)
It was a hard hitting comeback in more ways than one. The last time the Charlotte Checkers visited Giant Center, they eliminated the Bears from the playoffs. This time the Bears played the third period, like their playoff lives depended on it, scoring two goals and getting the victory over the Charlotte, 2-1.
Charlotte started the game off with a Bobby Sanguinetti goal with just 38 seconds left in the first period, to give the them a 1-0 lead.
Hershey had numerous chances in the second period but could not score and the Checkers held a 1-0 lead going to the final period.
In the third, the Bears Tomas Kundratek leveled a hard, but clean check on Charlotte's Nicholas Blanchard, sending Blanchard to the ice where he remained motionless for a few minutes. Blanchard got up and was helped off the ice.
Hershey scored two goals in just over 9 minutes to win. Just over 7 minutes into the period Cody Eakin found himself alone in front and scored to make it 1-0.
Then with under 5 minutes left to play Ryan Potulny finished off a scramble with the game winning goal to give the Bears a 2-1 victory.
Bears goaltender Dany Sabourin played another solid game, coming up with 30 saves on his way to his fifth straight win.
The Bears win, combined with the Wilkes-Barre Scranton loss, pulls to the Bears to within one point of the Penguins for the 4th playoff spot in the Eastern Conference and home ice advantage in the first round.
Before the game, the Bears announced they will be hosting an Outdoor Game next year. Stay with Sweetest Hockey as will will bring you more details as they come.
The Bears and Checkers meet again on Sunday afternoon at Giant Center. Faceoff is at 5pm.
More photos from tonight's game:

Doug Yingst makes the announcement of the outdoor game
The regional finals for the Labatt Blue bubble hockey tournament included former Bears goalie and Calder Cup Finals MVP Fredric Cassivi, who would go on to win the game and advance to the league finals, which will be held at Giant Center next weekend.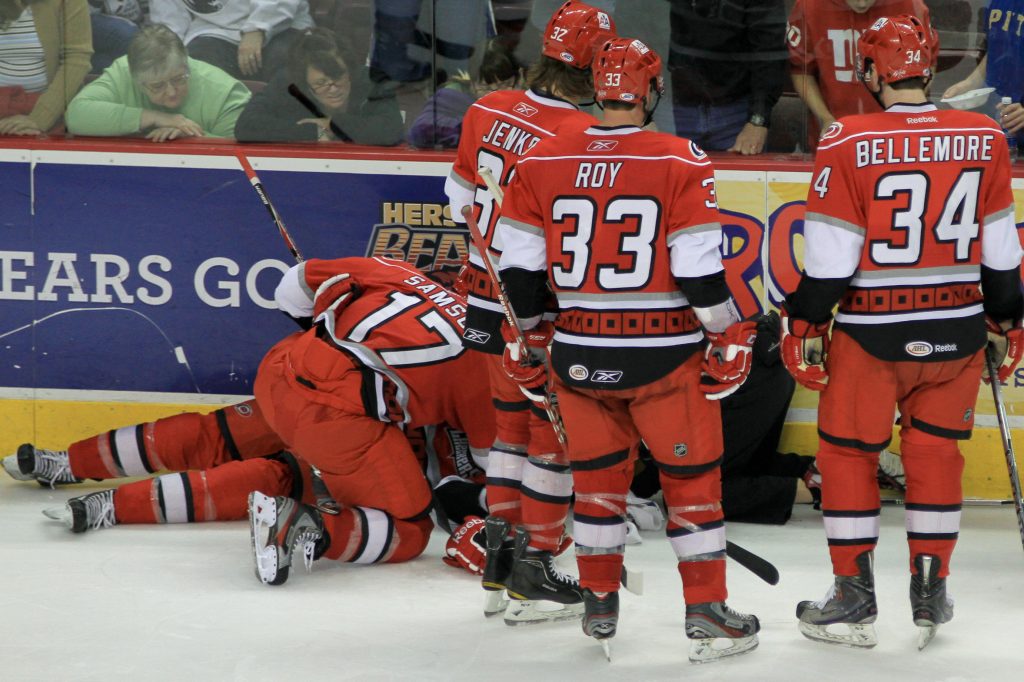 Checkers players gather around Nicholas Blanchard after the heavy hit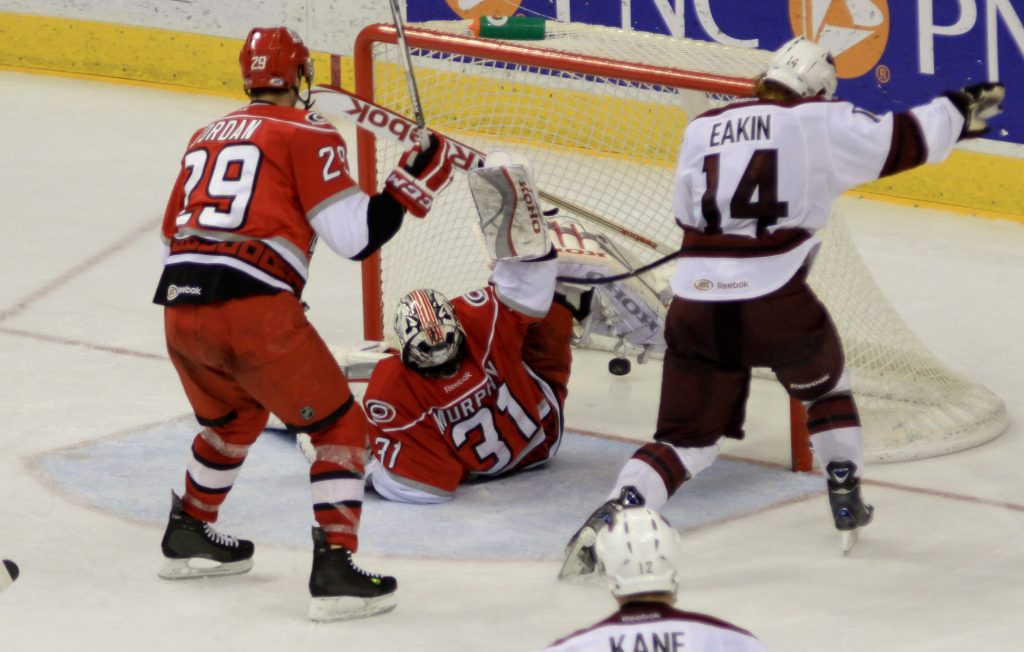 Cody Eakin scores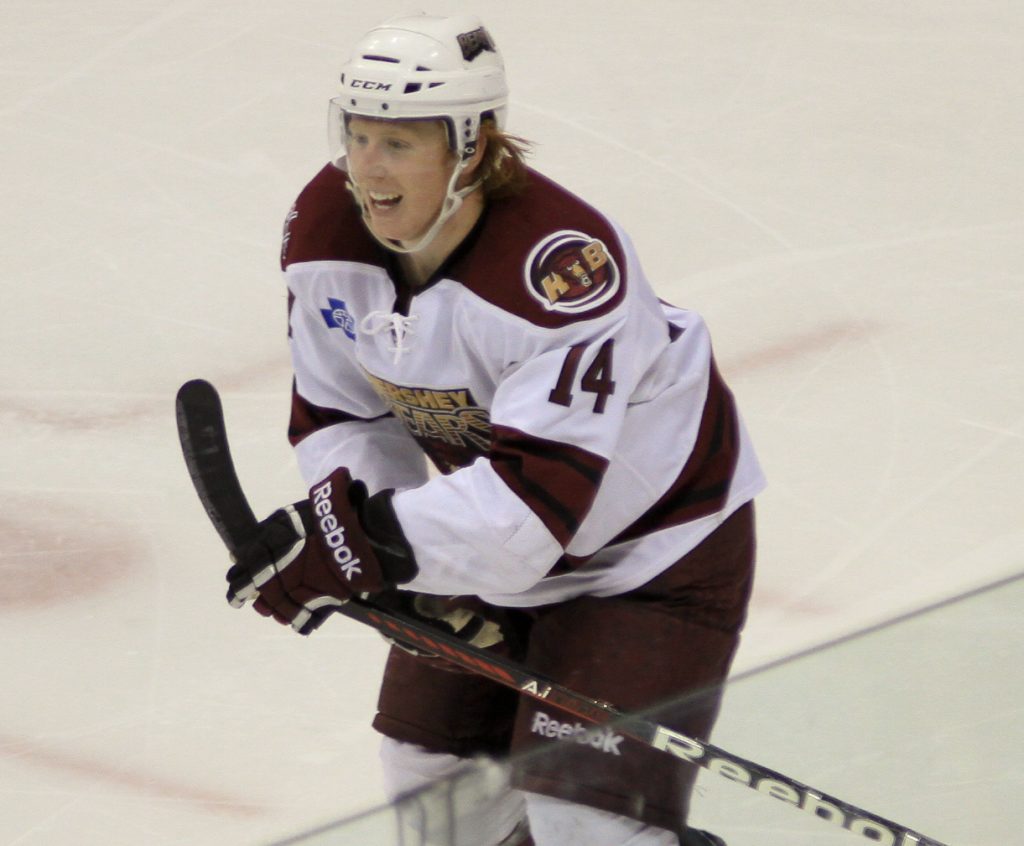 Happy Cody!
Potulny gives Hershey the lead and the win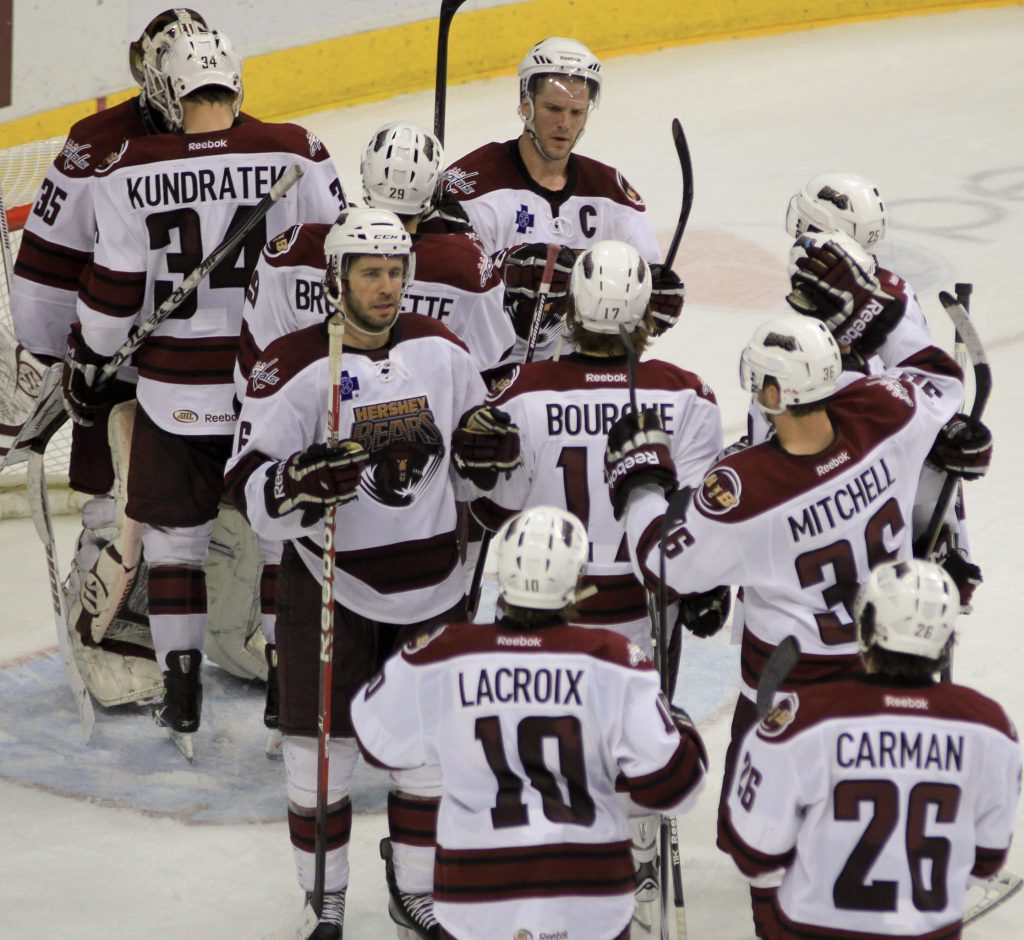 5 in a row for Sabo