Defensemen Help Bears Trounce WBS Penguins, 6-0.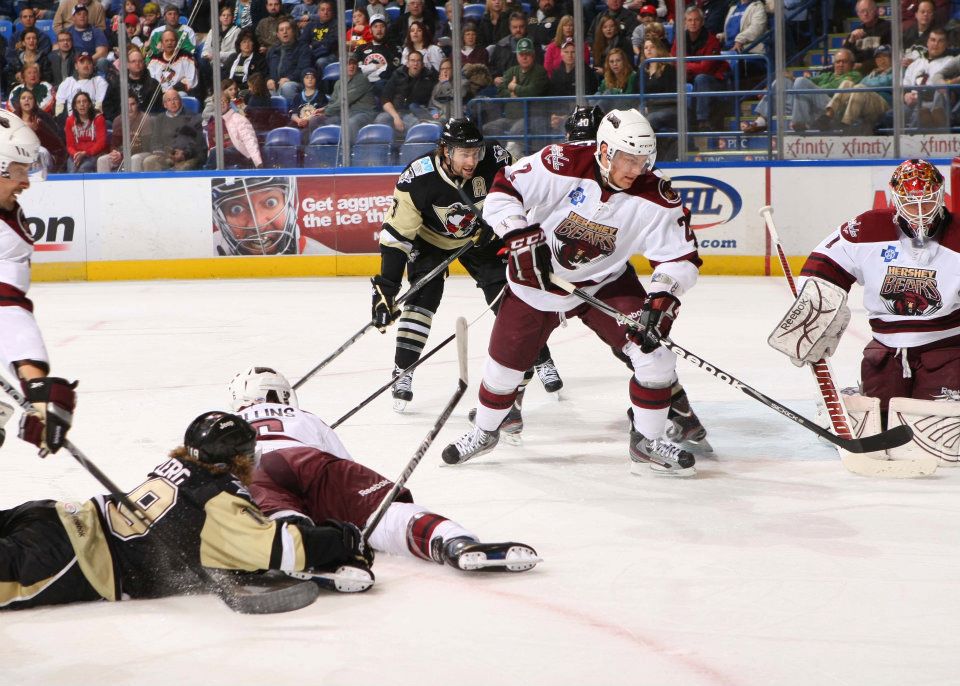 Braden Holtby shut out the WBS Penguins. Photo by Anthony Fabrikant / AFC Media.
The Bears are great at having strong starts, but they usually struggle to get those strong starts when they play the Wilkes-Barre/Scranton Penguins. Tonight, they broke through.
It was defensemen who started the show. First, Matt Ford was stopped on a wraparound attempt but Tomas Kundratek stuffed home the rebound. A few minutes later, Julien Brouillette extended the lead when he scored on a screened Brad Thiessen.
To top off the first period, Patrick McNeill scored short-side during a power play to make it 3-0 after twenty minutes. Not only were all three goals from defensemen, but they were also the fifth goal of the season for each player.
There was no scoring in the second period though luck may have had a big part in it. The Penguins dominated the second stanza but, between some lucky bounces and some big Braden Holtby saves, the score stayed the same.
The Bears earned a power play in the third period and made the most out of it. Jacob Micflikier potted his own rebound. Not too long after, Cody Eakin earned his fifth and sixth goals of the season. Instead of focusing on trying to break the shutout, the Penguins opted to fight for almost the entirety of the last two minutes. More on that below.
The holiday break must have done some good for the Bears. Hershey defeats the Penguins, 6-0! And we're doing it all over again tomorrow (hopefully with a similar outcome). No rest.
Tonight's Notes:
Andrew Carroll dropped the gloves with Alex Grant tonight. It barely had a chance to get going. After some shoving, Grant lost his balance and the fight was over.
Alex Grant also took on Joel Rechlicz. It was over quickly but not before Recker got a few good jabs in. This fight was one of three that occurred in the final minutes of the game. The other fights were Patrick Wellar vs Ryan Craig and Garrett Mitchell vs Geoff Walker.
Interesting stat that Kyle brought to my attention: Kundratek earned two goals and ten assists last season. He already has five goals and four assists so far this season. He came to Hershey with only two assists.
As I mentioned above, Holtby looked sharp tonight and helped keep the Penguins back during a bit of a lethargic second period from the Bears. He stopped all 28 shots that he faced.
Special teams stuff: The Bears were two-for-six on the power play and stopped all four of WBS's power plays.
Lines and Pairings:
Greentree – Aucoin – Bourque
Micflikier – Potulny – Ford
Eakin – Hanson – Mink
Mitchell – Carroll – Rechlicz
McNeill – Collins
Richmond – Brouillette
Wellar – Kundratek
Three stars of the game:
1. Braden Holtby (HER)
2. Julien Brouillette (HER)
3. Cody Eakin (HER)