Andrew Gordon talks about social media, his favorite Holtbyism, & playing dryer hockey with Crosby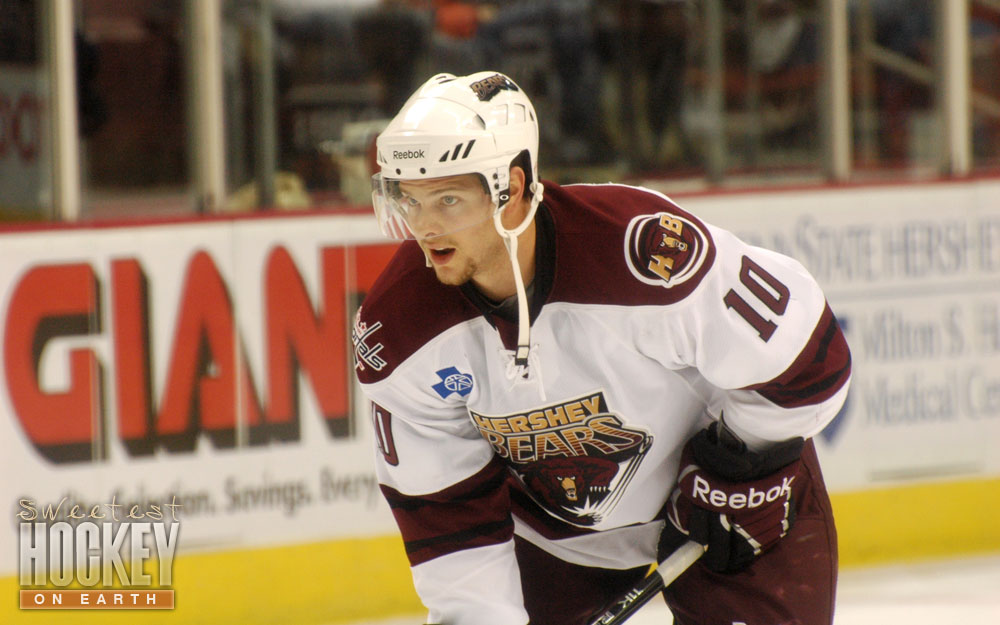 On November 20th, I went up to Hershey to celebrate my 26th Birthday in style, hoping to break my own personal curse and finally see a Bears victory in person (0-4). Despite Andrew Gordon's heroic two goals and Semyon Varlamov in net, the Bears couldn't garner enough offensive power to overcome the dreaded Wilkes-Barre/Scranton Penguins. Undeterred, after the game, I caught up with the current AHL goals (15) and points (30) leader for an exclusive one-on-one interview to ask for his thoughts on a wide range of topics. This includes life in the AHL, the Bears new Captain, goalies, Holtbyisms, and his experience playing dryer hockey with one Sidney Crosby.
In the weeks to come – if my first-ever video interview with an athlete does not result in me being kicked out of the Bears locker room forever – we'll continue to do these Q/A's. So make sure to check out for more profiles on your favorite Hershey players and let us know what you think in the comments below. Okay! Let's do this.
---
Q.
What's it like to play three games in three nights? By Sunday are you completely gassed?
A. Yeah, pretty much. Come to the rink, it's an afternoon game and a lot of times the other team coming in is coming off the road as well and you know what their effort level is, you know it's going to be tough for them to rev it up and play their "A" game. So you got to make sure that you try and put in a good first period. You can win a lot of Sunday games in the first period if you come out, score a couple goals.You always want to have a good start, to come out of the gates with some good energy and we try to maintain that as best you can for the rest of the night. It's tough a lot of the times. You've got to just try to make the smarts plays, not always the ones that'll create a lot of back-checking situations.
---
Q.
What do you do when you have no games during the week? Does that get a little boring?
A. Um. Yes and no. I mean, it's sort of nice to get those Monday, Tuesday, Wednesday off before you have to really start bearing down. A lot of times you take that time to get some good workouts in and sort of build your body up a little bit after tearing it down on the weekend. But, a lot of times you have to relax and make sure you're taking care of yourself because you know there's another three-in-three or, you know, like next week we've got four games in five nights coming, so you've got to make sure, when you get time off, you're not beating yourself up any worse than you do on the weekend.
---
Q.
I know it's been a few months now, but how did you,
Mathieu Perreault
, and
Jay Beagle
handle being sent down after training camp? How tough was that?
A. It was tough being that close but, at the end of the day, we're not the only guys in the world that got sent down before. You just got to come here and work hard, make sure you're doing the right things and bring the right attitude, hoping your number gets called when they need somebody. Obviously the first couple days you're a little upset, you want to get back there as soon as possible and you're just hoping your phone rings immediately. At the end of the day, you've just got to make sure that you're working. If you take the wrong attitude and sit here and pout about it, you're never going to get anywhere so you make sure you're just doing the right things and focusing your energy on the right things and I think we've all done a pretty good job of that so far.
---
Q.
What is the
weirdest quirk – or Holtbyism
– that Braden has?
A. He does this, right before he goes on the ice, I'm always the second guy on the ice, right before he goes on, you might be able to see this when he's up there too, he does this like little head shake thing ::shakes head:: where he looks like a big-time bobblehead and his neck guard is making all kinds of noise, rattling around. Whenever we're getting media stuff done, I always get him to do it on camera, do his little bobblehead act. That's my favorite Holtbyism.
---
Q.
Okay, so you've played with all of three of these guys… You have to choose between
Braden Holtby
,
Semyon Varlamov
, and
Michal Neuvirth
? Who you got?
A. Ooh. Ummmm. Jeez. You had to put me on the spot here. Hope they don't see this. You know what? It's a tough call. I mean, Varly's, I mean obviously what he's done, you know his career, especially up top, he's been outstanding. He's made some huge saves when guys need it. He's won some clutch game sevens and things. Holtby's really great at moving the puck and, you know, he's really coming into his own as a big game player himself. But, I mean, in the last couple of years, Neuvy has been the guy and you can't contest what he's done for us. He's pretty much single-handedly won us a couple rounds of playoffs and, I mean, I got two rings on my finger pretty much because of that guy so, if I was going into a game seven situation, I'd take my boy, Neuvy.
---
Q.
How did you feel when you found out that your buddy
Andrew Joudrey
was named Captain of the team this year?
A. Not surprised at all, to be honest. I've known him virtually my entire life so I know the kind of character he has and the kind of guy that he is in the dressing room, and the work and effort that he puts into the ice and the gym. He's the kind of guy that you can lean onto to make the right decision every time. I always made fun of him about this: No matter what he does, if I do what Joudrey does, I'm fine. ::laughs:: You know, he's making the right decisions all the time. And that goes for off the ice and everything he does seems to be in preparation for the game. Taking things seriously, but at the same time having fun, being a guy to joke around with off the ice, too. He brings a well-rounded personality to the dressing room. The one thing I like is that he's not necessarily an older guy. He's somewhere in-between a young guy and an old guy. Everybody can come and relate to what he's going through. Everyone can talk to him. He's been through a lot. He's really coming into his own as a leader in this dressing room.
---
Q.
Now I've heard rumors. Is it true that your AHL All-Star jersey from last year is at the Hockey Hall of Fame?
A. Yeah, I don't know. It's probably because it was 2010 and I was #10 or something. I think I had like zero points and a minus one in a 10-9 win for Team Canada. ::laughs:: It's not like I was performer of the night or anything. If it is, maybe hopefully somebody will take a picture for me and send it or something like that. That'd be pretty cool.
The placard says: "Andrew Gordon of the Hershey Bears wore this jersey as a member of the Canadian All-Stars during the 1st period of the 2010 AHL All-Star Classic held in Portland, Maine. Gordon failed to record a point as the Canadian All-Stars downed PlanetUSA 10-9 in a shootout."
---
Q.
What is the best part about being active on
Facebook
and
Twitter
? And what is the worst?
A. The worst is uhhhhh…
A. ::laughs:: No. I don't know. That's tough to say. A lot of it is, you know, fun for me to put things up and see how people react. And um, probably the worst thing is, when people try to coach me. I'll get messages explaining how we should run our powerplay. Most of which you'll notice, ::turns to camera:: I don't reply to! …I get a lot of positive responses too and I mean every now and then I'll get invites to charity events that I get to be apart of when you have days off. And people have requested some appearances that I can show up for. So for me, it's a good way to stay in touch with a lot of people in the community and stay active in the community. And people are always wondering what's going on in this dressing room. This is a very, very small window of it, but if I have the ability to show people and tell people what's on my mind, then maybe it'll help people enjoy the hockey experience a little bit more.
---
Q. Well, finally. Let's see if you'll finally go on record with this. So we've all seen the Sidney Crosby/Max Talbot basement dryer hockey ad. Have you, Andrew Gordon, ever played dryer hockey in Crosby's basement??
A. Well. Yes, I have. But the dryer is a miss, so technically, ::laughs:: a misfire would be the dryer shot so I don't know, it's not like we're aiming for it every time. But yeah. That's his real basement and that's where his parents raised him and his sister. So, there you go, the commericals are true.
Q. Did you win?
A. I don't know. I was eight years old or something like that. I can't assume… I'd say yes though. Probably because my skill-set is equal or if not better than his. ::laughs::
Special thanks to Kyle M. for recording this interview.